WE TAKE PRIDE IN YOUR RIDE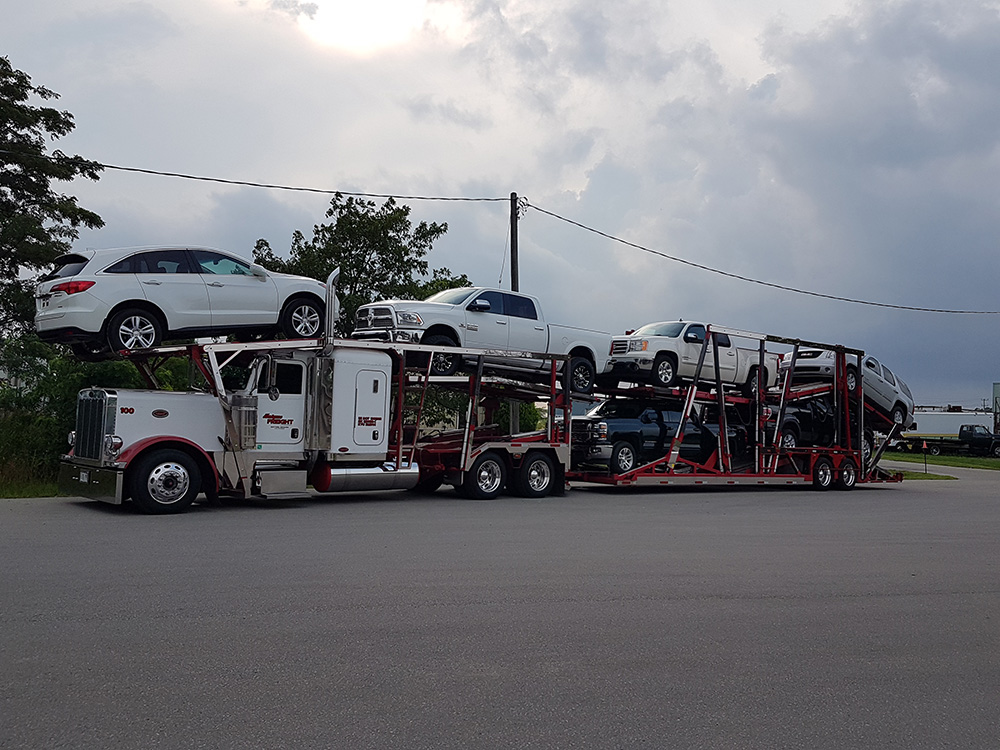 WE DO CARE ABOUT YOUR CARGO!
We offer international truckload service for SUVs, cars and light-duty trucks.
Unique Freight is one of the leading carhauling companies in Ontario, Canada, that specializes mainly in truckload service from Ontario to Michigan. We also would be able to accommodate the customer who does not ship full loads but only 1 or 2 vehicles at a time.
Transporting vehicles is something Unique Freight takes great pride in and with our team of professional carhaulers, the customer can feel at ease knowing their vehicles are being looked after by the best carhaulers in the business.
Live Logistics Help at
519-631-0007
Automated Export System Filing Information
---
Reliable Vehicle Shipping, Transport & Quotes
for Canada and the US
We hire only trained professionals to load, and move your vehicle in the most safe and efficient manner. We do a comprehensive check of your vehicle before we board it on our trailer. We will make sure that you will get your vehicle from Canada into the US (and vice-versa), without a scratch.
Aside from being fully insured, Unique Freight is also well-versed on customs procedures involved in transporting from Canada to the U.S. Our team is well-equipped to handle customs issues that may arise, guaranteeing safe and delay-free deliveries.
Here at Unique Freight, we will show you that quality transport and affordability go hand in hand. We offer very competitive rates for shipping in Canada and the US that are comparable, if not better than, other major transport companies. If you want to get to know more about our rates, don't hesitate to give us a call. If you have a price quote from another carrier, you can compare it with our rates and we will show you why we can offer the best deal.
If you want a quick estimate, try our online freight quote form. Just fill out the necessary information and then we will get back to you as soon as possible.
OUR COMMITMENT
We will deliver excellent service and care, and ensure that your vehicles are transported safely and efficiently.
OUR SERVICES
We offer international truckload shipping of SUVs, cars and light-duty trucks, to and from the United States.
Unique Freight is a family owned company that is well versed in the duties of hauling cars. Hauling cars has been the livelyhood  in my family since 1969. The job of hauling cars is #1 in my books and I consider it the most demanding Transporting job there is. This job is very demanding to the drivers who load and unload the vehicles daily, whether it is a beautiful sunny day or -30 with blowing and drifting snow. Without the best drivers in the business it is hard to succeed in this business and I have great confidence in my drivers that they are some of the best drivers and carhaulers in the biz.
Fast and Safe Vehicle Transport & Shipping Services
Pride and Service are Second to None At Unique Freight we take great pride in providing you with second to none vehicle transportation. Our employess understand how much your vehicle means to you and how important it is to move it safely and efficently.
All of our employees understand the importance of shipping your vehicle damage free. To achive this we started by giving our drivers clean, well maintained trucks to operate. Next, our trailers are specialy designed and fully equipped to ensure your vehicle is loaded properly. It must be secure and meet or exceeds all transportation regulations and requirements. Our drivers will ensure that there will be no damage during transit.
Everyone at Unique Freight understands customs procedures. If you are importing or exporting into Canada or the United States we know what to do at the border and what is required. As we all know, dealing with Customs can be very exhausting. Not every rule applies to every situation when importing exporting. Our knowledge will help eliminate potenial issues and or delays related with customs.
Unique Freight has an Excellent safety rating. We are fully insured and we are constantly in contact with both the U.S. and Canadian transportation authorities to stay current with Transportation laws and regualtions.
VEHICLE SHIPPING LOCATIONS
International Shipping Locations
Unique Freight offers international shipping of cars, SUVS and light-duty trucks.  Our main pick up and delivery locations are between  the Toronto Ontario to Flint Michigan corridor.
Car Shipping to Canada
If you have purchased a vehicle in the USA and need it exported into Ontario we can assist you with that. All vehicles that come into Canada have to have an AES form completed and sent to us and has to be presented to US Customs 72 hours prior to the vehicle arriving to the border.
Car Shipping to the USA
Want to move your car from Ontario to the US?  We can help! If you are a private individual that needs to have their vehicle imported into the United States, or a Dealer that moves volumes than we can help. We can accomodate single units or provide truckload service.
We offer the best rates possible for our top-notch services. Our online freight quote form can help you get an estimate of the expenses. Just put in the necessary information and we will respond to your inquiry as soon as possible.
Get to know more about Unique Freight's car shipping services: Call us at 519-631-0007.